Event Recap:
ASC at the Pacific Audio Fest 2023
The 2023
Pacific Audio Fest
showcased many top HiFi equipment manufacturers and was a wonderful experience for all involved. Year two went off smoother than ever, with a nice steady flow of attendees testing the various systems set up in rooms throughout the DoubleTree-Hilton in SeaTac. Special thanks to event organizer Lou Hinkley for his tireless assistance and flexibility. And to Gary Gill for endless cheer and infectious love of music. And to Marjorie Baumert for a cheery start to everyone's day at the show. We look forward to next year's September weekend for more of the same – and better.
Onto the gallery!

Before leaving the ASC factory in Eugene, the truck was packed mostly to the gills with TubeTraps and booth gear. We brought along a variety of acoustic control devices for various needs of some rooms and also to share with show attendees.

Our HiFi specialist Tim mans the booth, ready to help you solve your room's acoustic issues and bring out the most from your sound system. Want to talk horn speakers or stereo separation techniques? He is your guy.

Day one was moderately busy in the MarketPlace room. Most of the attendees were in the music rooms – and we can't blame them!
HiFi audio shows are the best place to personally experience a wide variety of loudspeaker, amplifier, audio streaming, phonograph, and other associated equipment types — all in one convenient location, where you are able to compare this various gear nearly head-to-head as you move from room to room. For many boutique makers of fine equipment, audio shows are the only opportunity that potential clients may have to audition their labors of love.
Let's see some rooms, starting off in the ballrooms near the marketplace.

The venerable Von Schweikert Audio wowed once again with their Ultra 7 loudspeakers. Big and powerful, yet intimate and refined.

The Triangle Art room used awesome horn-loaded speakers to broadcast their exceptional turntable system, with the combination delivering life-like impact. Brass and strings were chillingly real.

Upstairs one level, the Audio Skies room used the fine Gamut Zodiacs to launch the sound to the audience. TubeTraps were tucked in the corners to control room bloom.

Down the hall in a Cascade conference room, Angel City Audio delivered a convincing performance with the Seraphim loudspeaker. A small fleet of TubeTraps helped complete the symphonic illusion.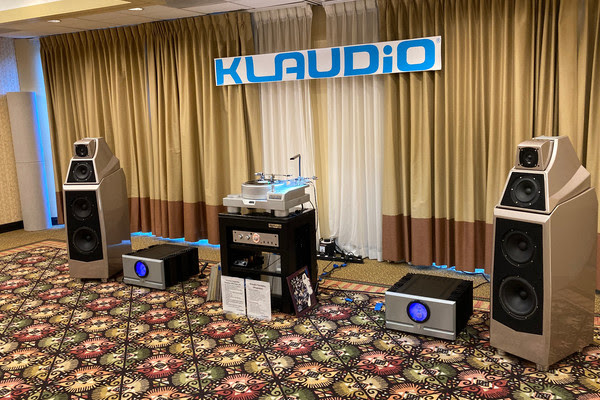 Next door, Klaudio showed off a very innovative turntable technology and let Wilson and Pass Labs take the music to the room from there. Amazing combination.

Jaguar Audio's display looked as good as it sounded, with the stunning AvantGarde Duo loudspeakers bringing the entire orchestra into Cascade 5.

Spatial Audio Lab's room on the 13th floor was a masterclass in simple sonic elegance. The open baffle dynamic dipole X4 loudspeaker sang like a siren and punched well above its weight class. Very impressive.

Invited by Innuos and welcomed by Acora Acoustics, ASC TubeTraps played a large role in establishing the VRC-1 loudspeakers as the undisputed heavyweights at the show. Seriously, 400 pounds of granite! And they truly ROCKED!

A few doors down, show organizer Lou Hinkley's labor of love Daedalus Audio showed off the reference Apollo 11 and proved that old-world craftsmanship and modern loudspeaker technologies are not at odds.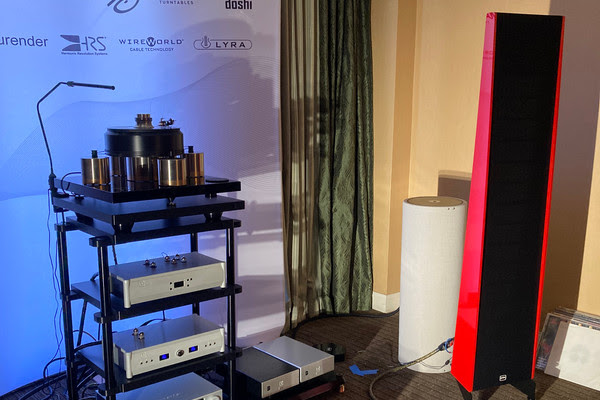 And at the end of the hall on the 13th floor, Popori Acoustics proved that electrostatic panels can really bring the sub bass. Deep, tight, and tuneful, we don't know how they do it — but the TubeTraps sure helped.
And now we move into the wings of the hotel. Many fine offerings here, and the rooms are smaller–standard sized guest rooms. But boy, oh boy, did some of them sound amazing.

First up is the understated Audio Note loudspeaker; the simplest of 2-way rectangular box design. Of course that description does it no justice whatsoever as these AN-E's delivered ample bass, sparkling highs, and clear mids, without a hint of fatigue. Sometimes simpler is better!

The crew from JustAudio came from Baltimore and brought the vintage fun. The Mission room used 770's and a Marantz reciever/amplifier, and sounded fantastic.

The second room from JustAudio featured the MoFi SourcePoint by loudspeaker designer extraordinaire Andrew Jones. The coherence was as good as it gets, with broadband awesomeness and an extra sprinkle of fun.

Olson's HiFi hosted a KEF room that allowed listeners to experience the sequence of R3, R7, and R11 Meta loudspeakers in rapid succession. While the larger models filled out the bottom end better, all three delivered super-clean upper bass and lower midrange-thanks TubeTraps!

Spatial Audio Lab made another great showing in their second room. The Q6 delivered in every way, and demonstrated what a well-designed dipole is capable of. Great work!

Millercarbon showed off the Tekton Moab with its innovative tweeter array handling duties down to around 200 Hz. Wow!

Last but not least for the exhibitor's rooms, Odyssey Audio set up a very cool visual display that harmonized well with the massive and immersive sonic soundstage. Klaus' fine loudspeakers quite literally disappeared, while the TubeTraps served double duty as stands for the electric candles.
Let's wrap things up on the top floor, Maxi's lounge. The expert seminars were presented here, including one by ASC Owner, Founder, and TubeTrap inventor Art Noxon, along with a couple of fantastic live shows. In support were a fleet of TubeTraps and an enthusiastic crowd!
Coming soon: YouTube video of Art's PAF 2023 talk about articulation in musical listening.

The Kings of Swing jazzed up the room on Friday night. Notice the StudioTraps in a row behind the band and some larger stacks along side.

The ~17 piece brass band really shined with some handy reverberation and echo control. Thanks TubeTraps!

Night two showcased Baby Cakes from Bellingham for some funky soul cover songs and originals. Check them out!

The Baby Cakes rhythm section held it down with a little help from our Tubular friends. TubeTraps = tighter bass = more groove!

The view from the top floor of the hotel allowed show attendees and exhibitors to enjoy a lively sunset each evening with the Olympic Mountains in the background. Overlooking Bow Lake to the north, we see some friendly neighborhoods in the community of Seatac.
Enjoy the PAF 2023 gallery: